Heber Springs Schools is honored and thankful to have the support of the great citizens and businesses in our tremendous community. Our Business of the Month selection for March goes to the L&M Bowling Alley. Heber Springs High School was able to bring back the bowling team just two years ago and we have been very impressed with their success. The owners of the L&M Bowling Alley have offered words of encouragement and willingly helped out any Panther that has asked for assistance. Thank you for the support, encouragement, and extra coaching while we used your facility. We are so thankful to have organizations like the L&M Bowling Alley supporting Heber Springs Schools. Congratulations and thank you for your continued support of the students, staff, and families at Heber Springs Schools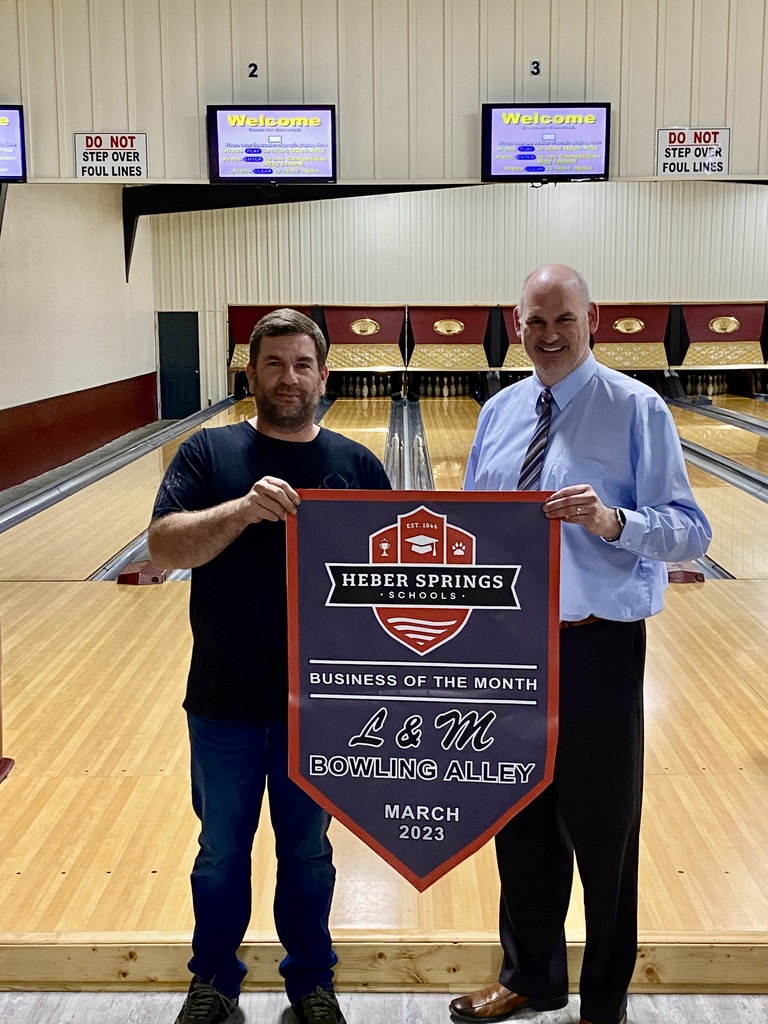 ATTENTION PARENTS! Spring Pictures for Elementary and Middle School students will be on March 10th, Everyone will be called in to take these pictures. *You can go online and pre-order your portraits. *You can use the order form that will be sent home with your student to order your portraits *You can decide on ordering after receiving the proof THERE WILL NOT BE A MAKEUP DAY FOR THESE PICTURES inter-state.com/order Elementary: 76753HA Middle: 76753MA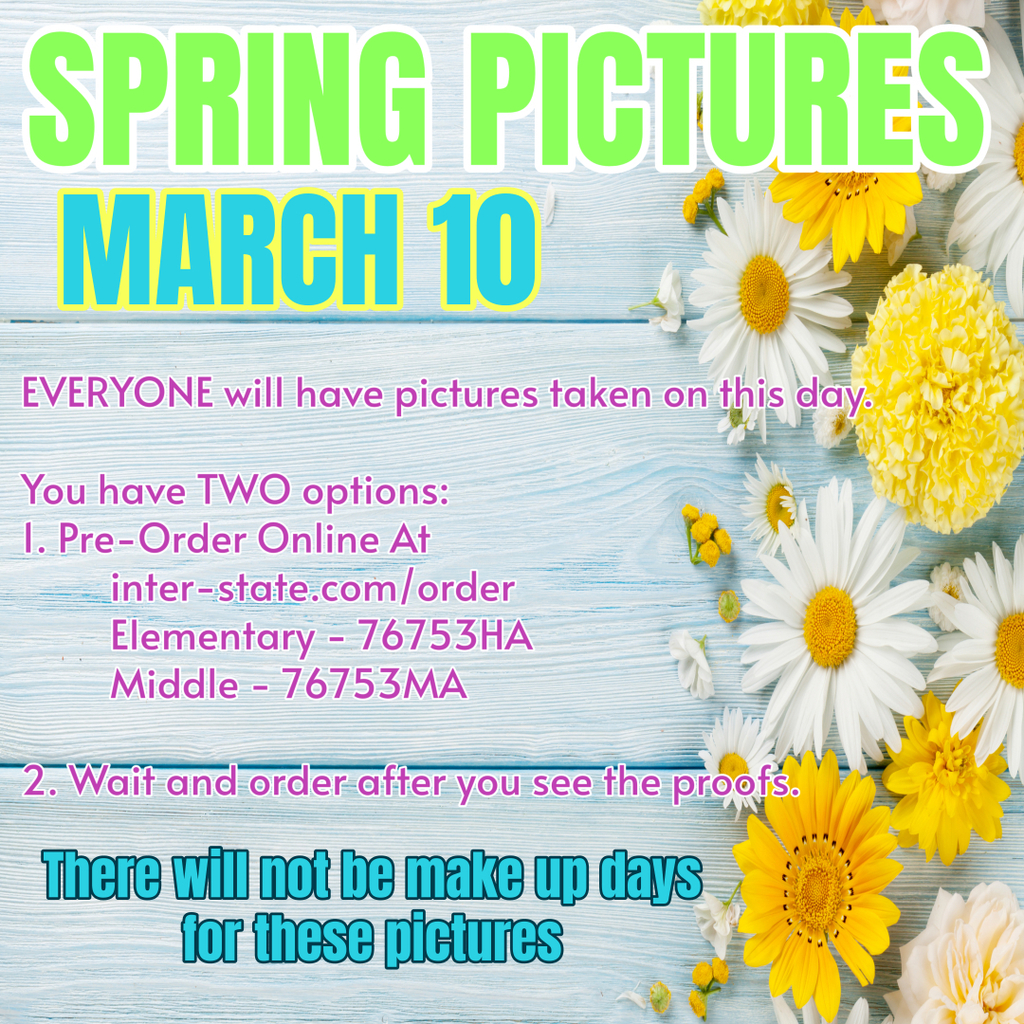 ATTENTION ALL JUNIORS (ON-SITE AND VIRTUAL) The ACT will be given to ALL Juniors on Wednesday, March 8th, at Heber Springs High School. This is for ALL Juniors who attend HSHS! You must be at the OLD GYM with your Chromebook AND Charger by 7:55am!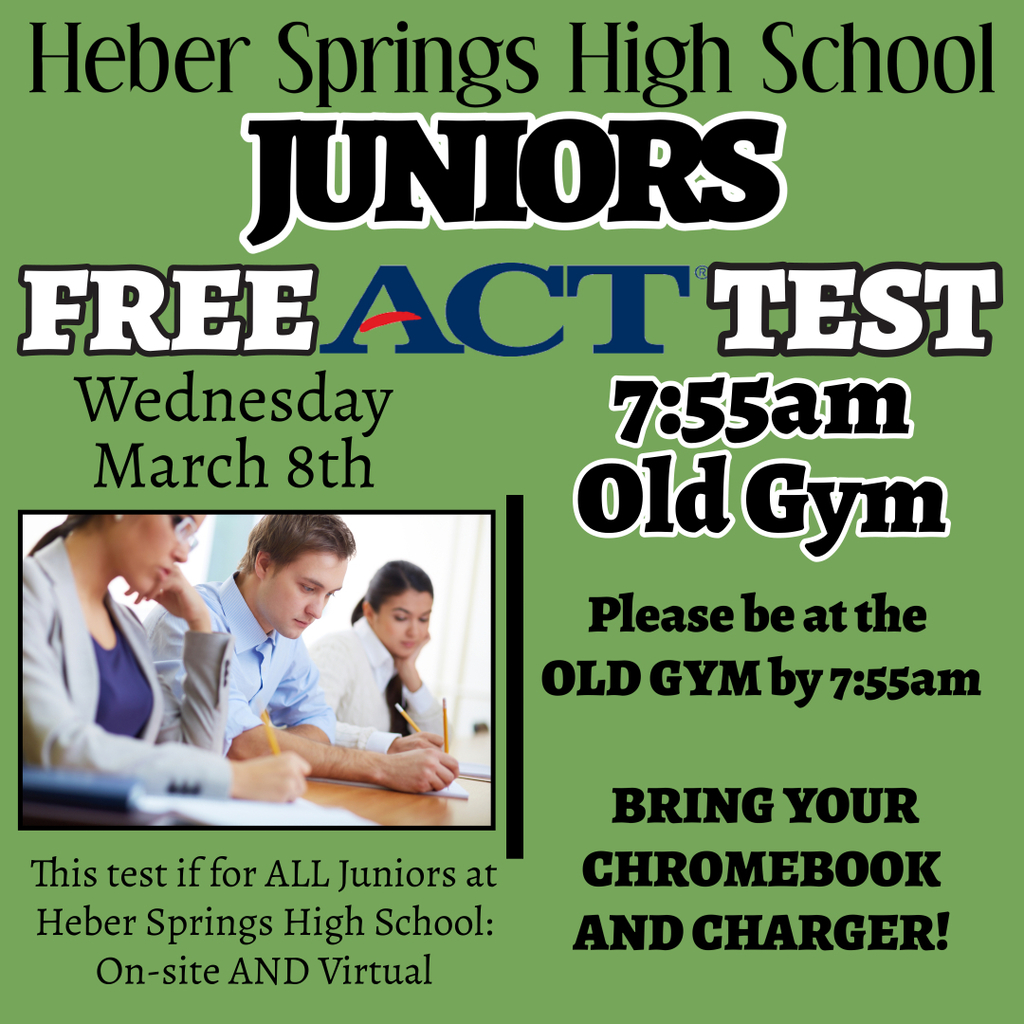 Soccer games scheduled for tomorrow vs Dardanelle have been canceled due to potential weather.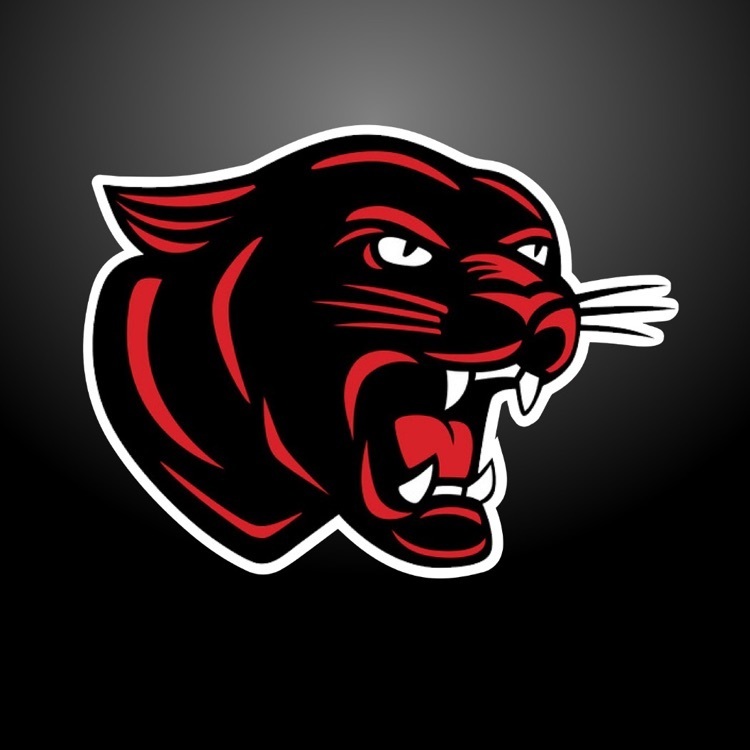 "Senior Parents: There are 2 short weeks left to purchase a recognition ad in the yearbook for your senior. Ads must be purchased and created online by March 15th, using this link
www.jostensadservice.com/student
Please see pricing below. Full Page $250.00 1/2 Page $175.00 1/4 Page $125.00 1/8 Page $75.00"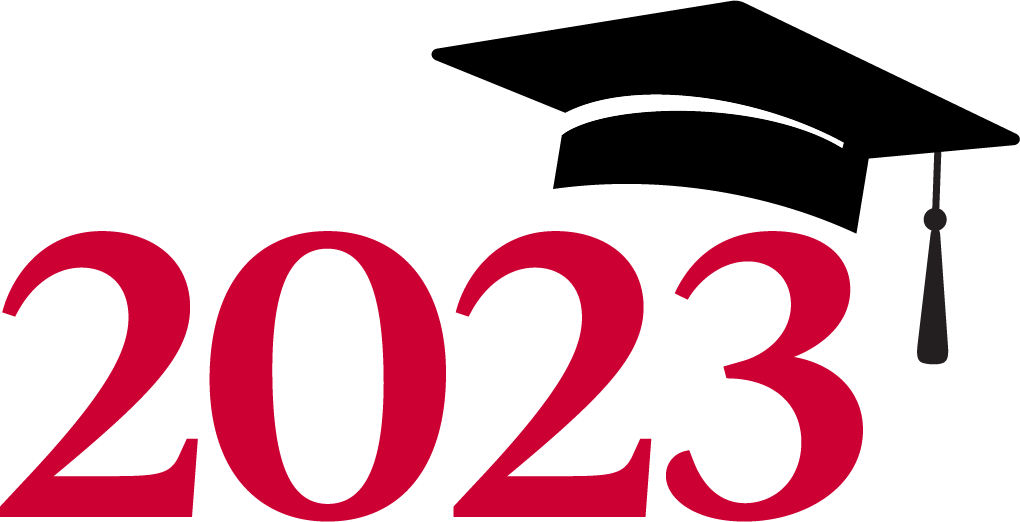 HIPPY REGISTRATION! We are now enrolling for 2023-2024 Heber Springs HIPPY school year. HIPPY is a home based preschool that serves children who are 2-, 3-, 4- years of age by August 1, 2023. If you are interested in securing your spot or finding out more information, fill out the google link below and someone will contact you to get you signed up for our program that will begin in August 2023. We have limited spots.
https://forms.gle/YKMhkXz6vQyt44GA6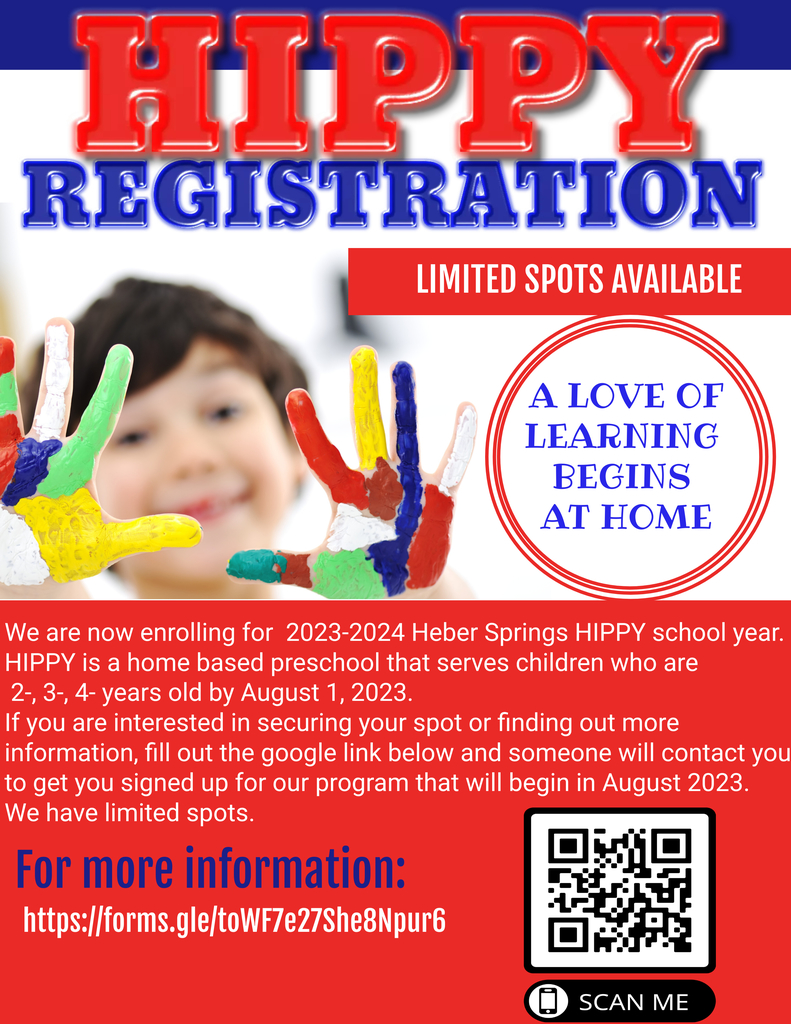 Today's Panther Baseball Game @Conway High School has been canceled due to field conditions.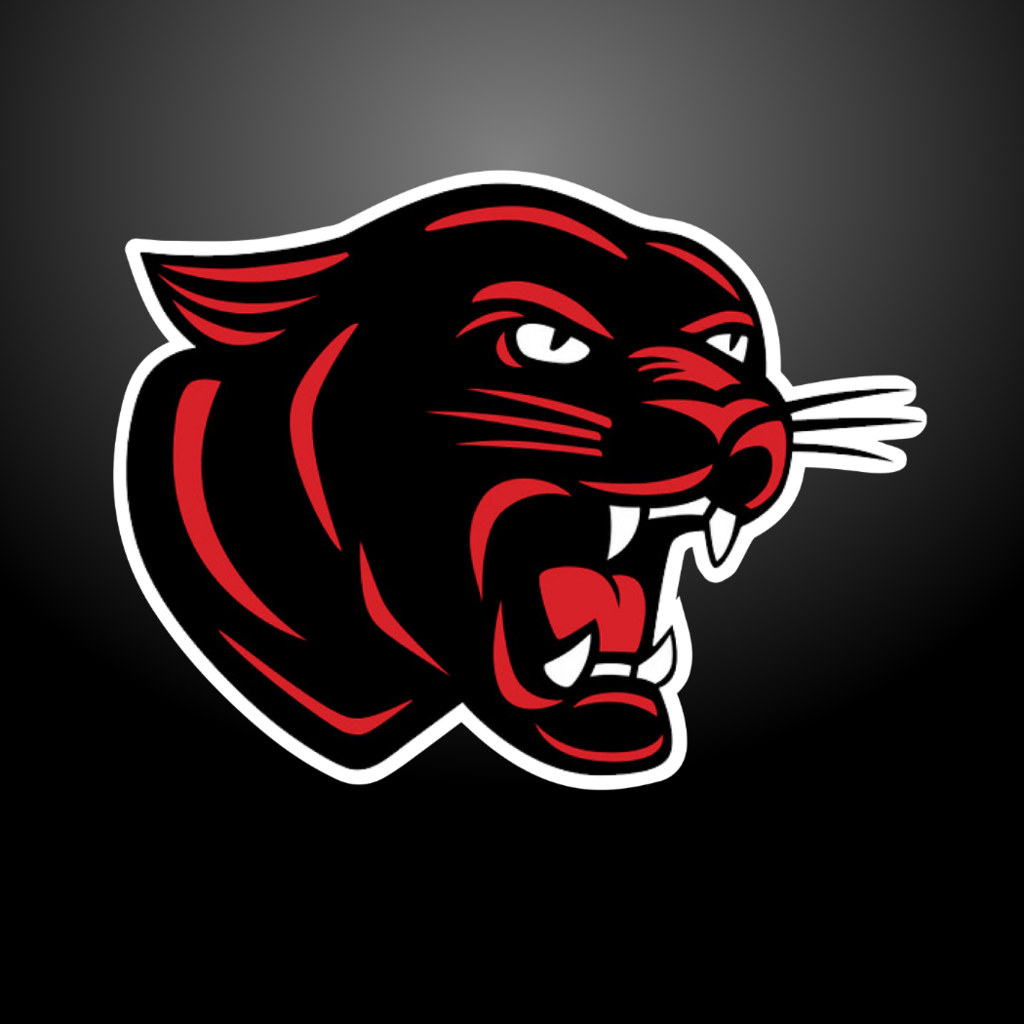 Today, a student at Heber Springs Elementary brought a BB gun in their backpack. It was shown to a few students and those students immediately alerted school personnel. School Administrators confiscated the item and alerted the School Resource Officer. We would like to thank those students and school personnel for their immediate action in keeping others safe on our campus.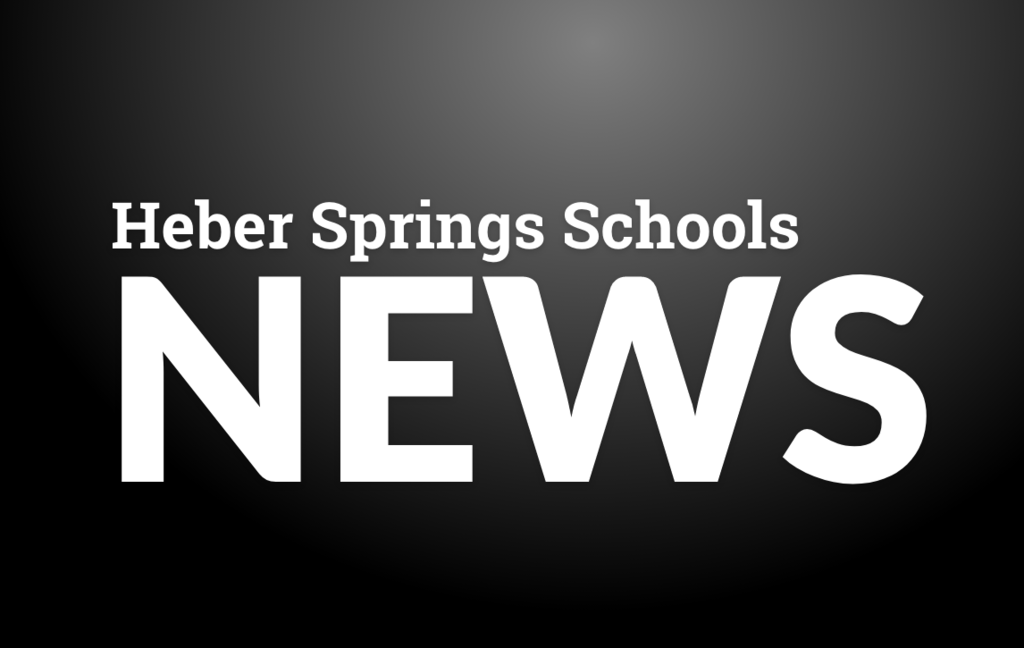 Community Send-off for the Lady Panther Basketball Team. Monday, February 27 Line up at 5:15pm at Heber Springs High School Girls leave at 5:30 Come out and show these girls your support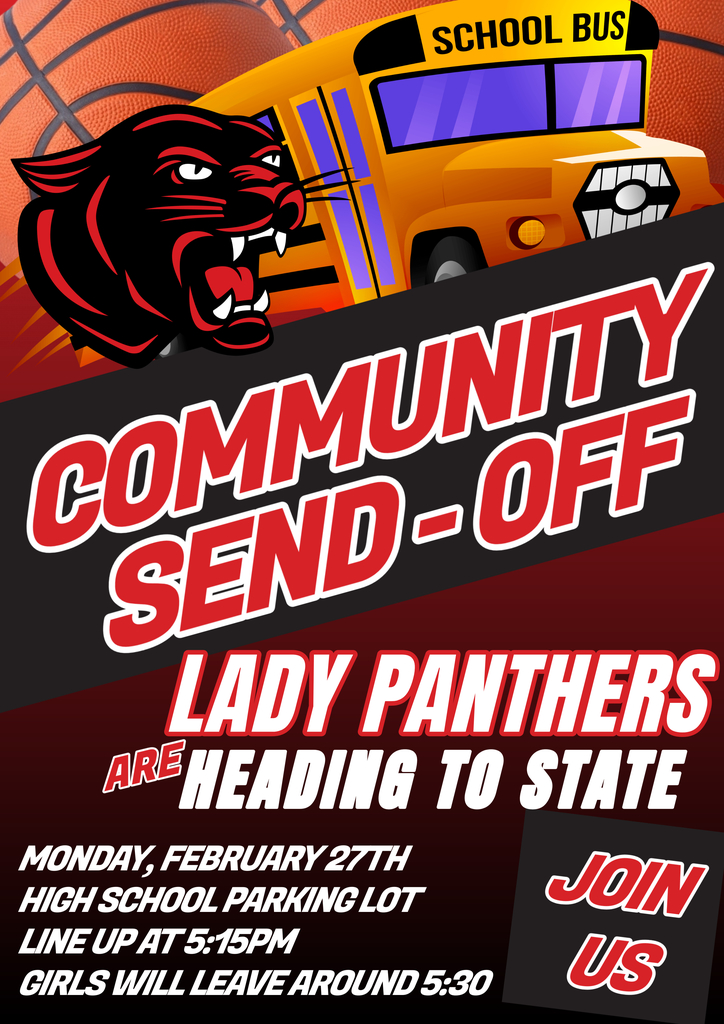 THIS WEEK @HEBER SPRINGS SCHOOLS Monday 2/27 8th Grade Trip to ASU Heber Baseball @Conway Soccer @Riverview Tuesday 2/28 HSMS Shade Tree Ceremony 8:15am Baseball @Pangburn Lady Panther Basketball vs. Gravette @Blytheville 7pm Wednesday 3/1 9th Grade Career Day Field Trip Thursday 3/2 Baseball vs. Batesville Softball @Wynne Soccer vs. Dardanelle Friday 3/3 8th Grade Preview Day at HSHS Softball vs. Batesville Saturday 3/4 Softball JV Tourney @Southside Sr. High Quiz Bowl Tourney Please check District and Athletic Calendar for up to date info on Spring Activities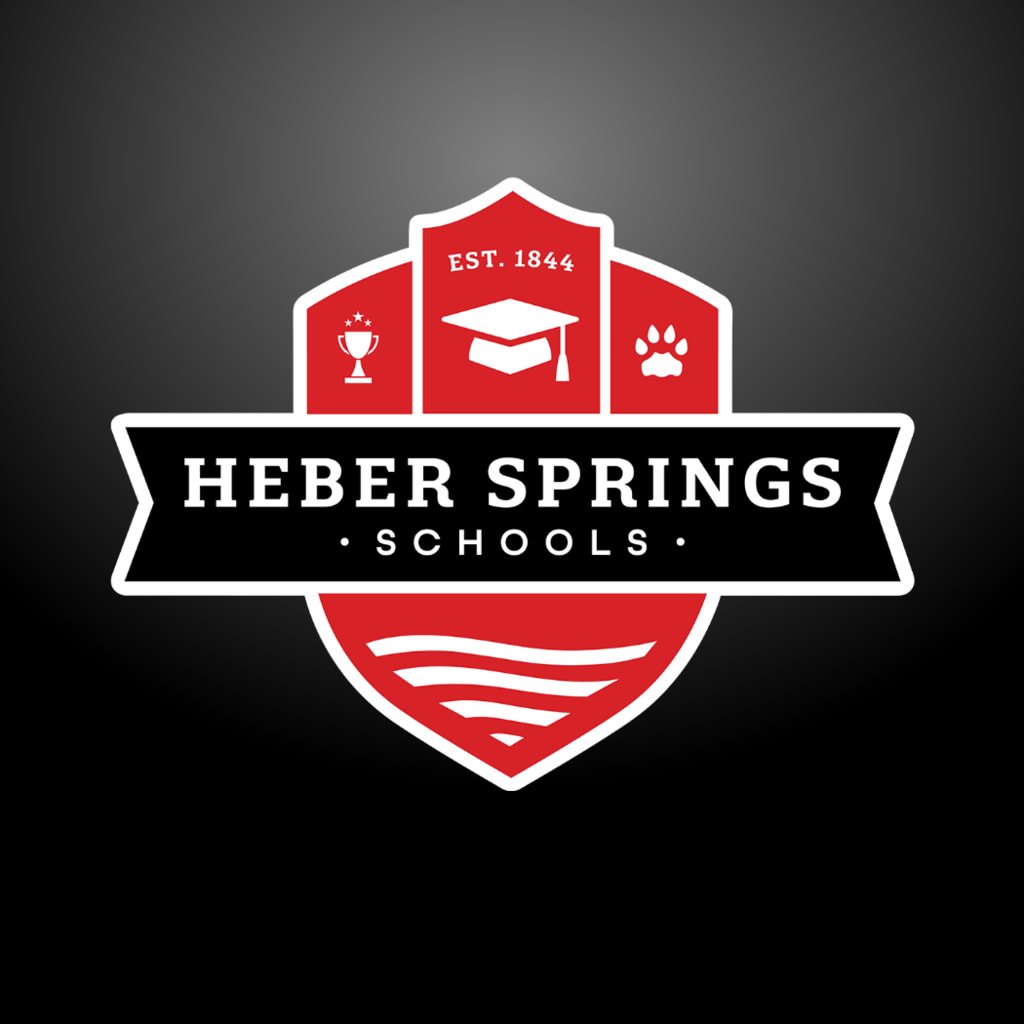 Josten's will be on campus on March 14th to deliver the graduation announcements, caps and gowns, etc... They will also be delivering the class rings. IF YOU OWE ANY MONEY TO JOSTEN'S, YOUR ACCOUNT WILL HAVE TO BE PAID IN FULL IN ORDER TO TAKE YOUR STUFF HOME!!!!!

If you're interested in showing livestock with Heber Springs FFA, come to the meeting on Monday, March 6th at 6pm! The meeting is for any current 7th-11th grade student who is currently (or will be) taking an Agri Science class. Meeting will be held in the High School. Please contact Mr. Gauvey for more information:
Isaac.gauvey@heberschools.org

THIS WEEK @Heber Springs Schools Monday 2/20 – NO SCHOOL 5pm Panther Baseball vs. Maumelle at Heber Sports Complex $5 per person Only AAA/Student/Faculty passes. 6pm Cleburne County Spelling Bee Grades 5-8 @ASU Heber Wednesday 2/22 8:15am HSMS Shade Tree Grant Ceremony (weather permitting) Thursday 2/23 8:30am HSHS BETA Blood Drive @PAC 4:30 Panther VB Soccer vs Batesville @Panther Stadium $5 per person Only AAA/Student/Faculty passes 7pm Sr. Girls Basketball vs. Highland @Clinton Friday 2/24 1:45'ish - HSES One School, One Book Kickoff @PAC Saturday 2/25 6pm FCCLA Panther Princess Pageant @PAC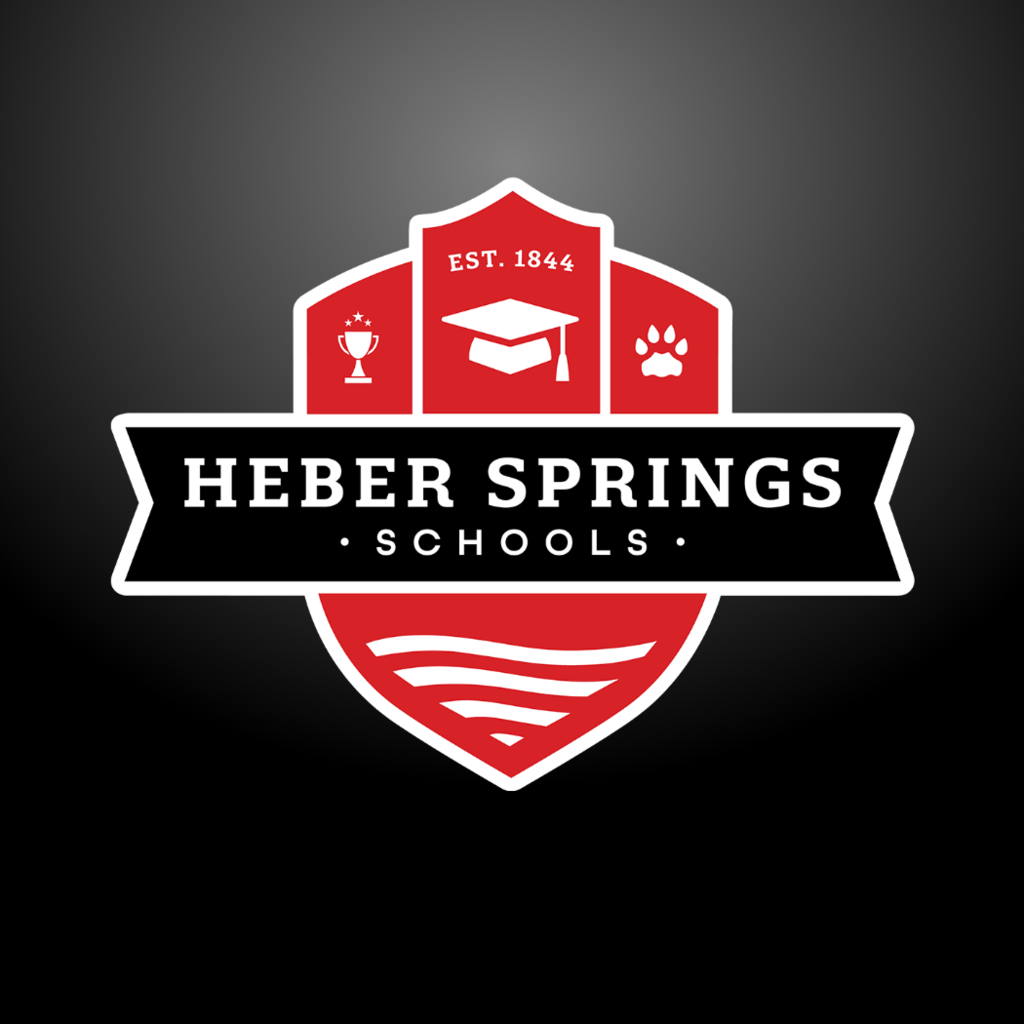 Tonight's Senior Boys Basketball game at Little Rock Christian will begin at 7:15pm.

This week @Heber Springs Schools Tuesday, February 14 SG,SB @Clinton 6pm Thursday, February 16 HSMS STEAM Night 5:30-7:30 SG, SB vs. Bauxite 6pm in the Den Friday, February 17 NO SCHOOL - Winter Break SB @LRCA 6pm Monday, February 20 NO SCHOOL - Winter Break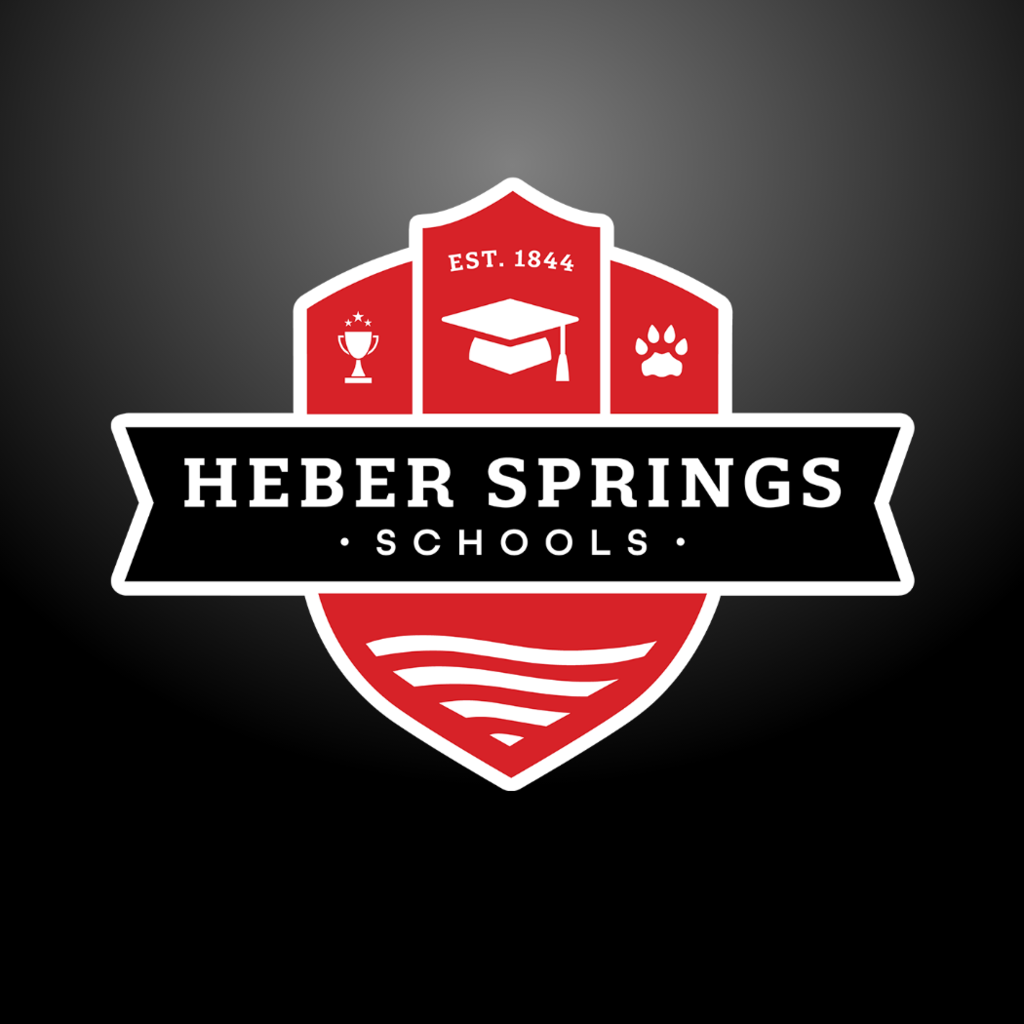 If your 7th/8th grade boy is interested in playing baseball this spring...there will be a parent/player meeting on Monday, February 13th, at 6:30pm in the Panther Den.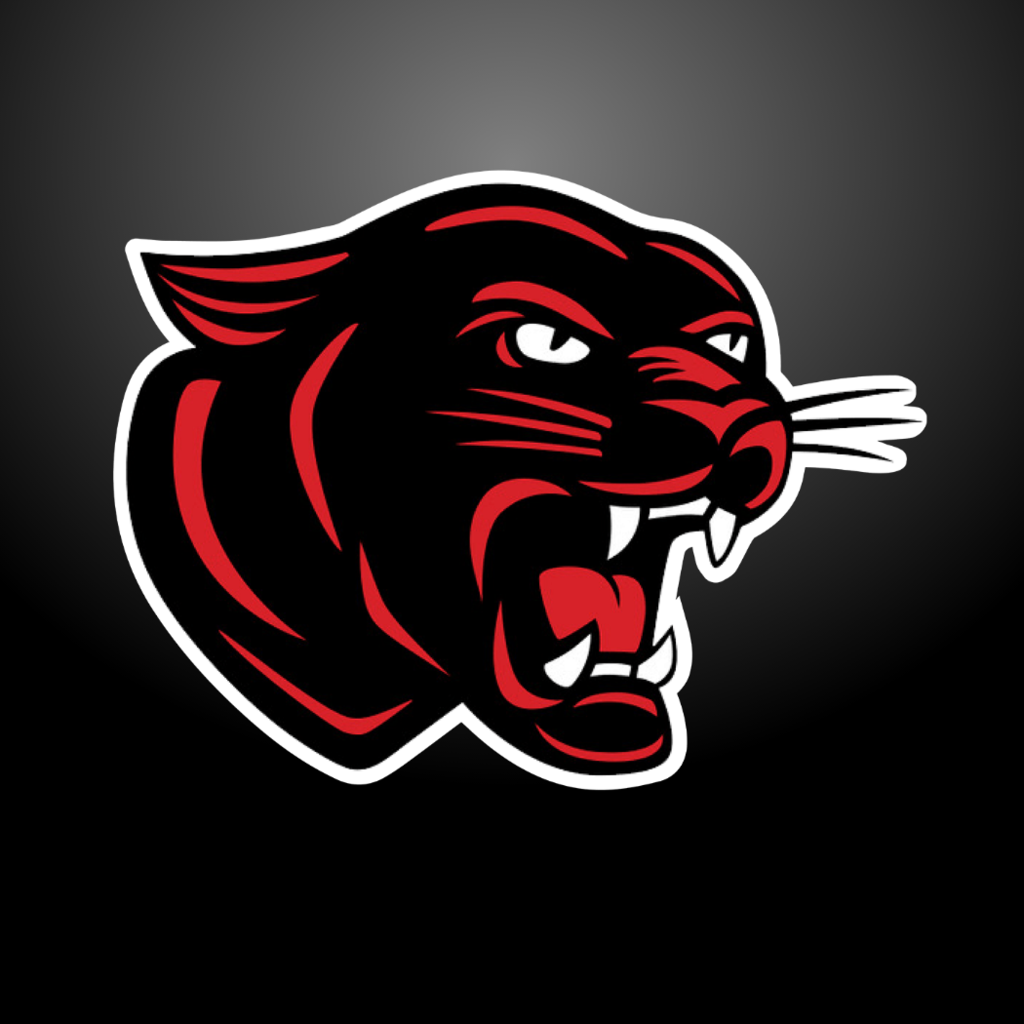 The Jr. High District Tournament is underway at the Panther Den and we need YOU to come out TONIGHT and cheer on our very own Panthers. Jr. Boys will play Lonoke at 6pm and Jr. Girls will take on Bauxite at 7pm.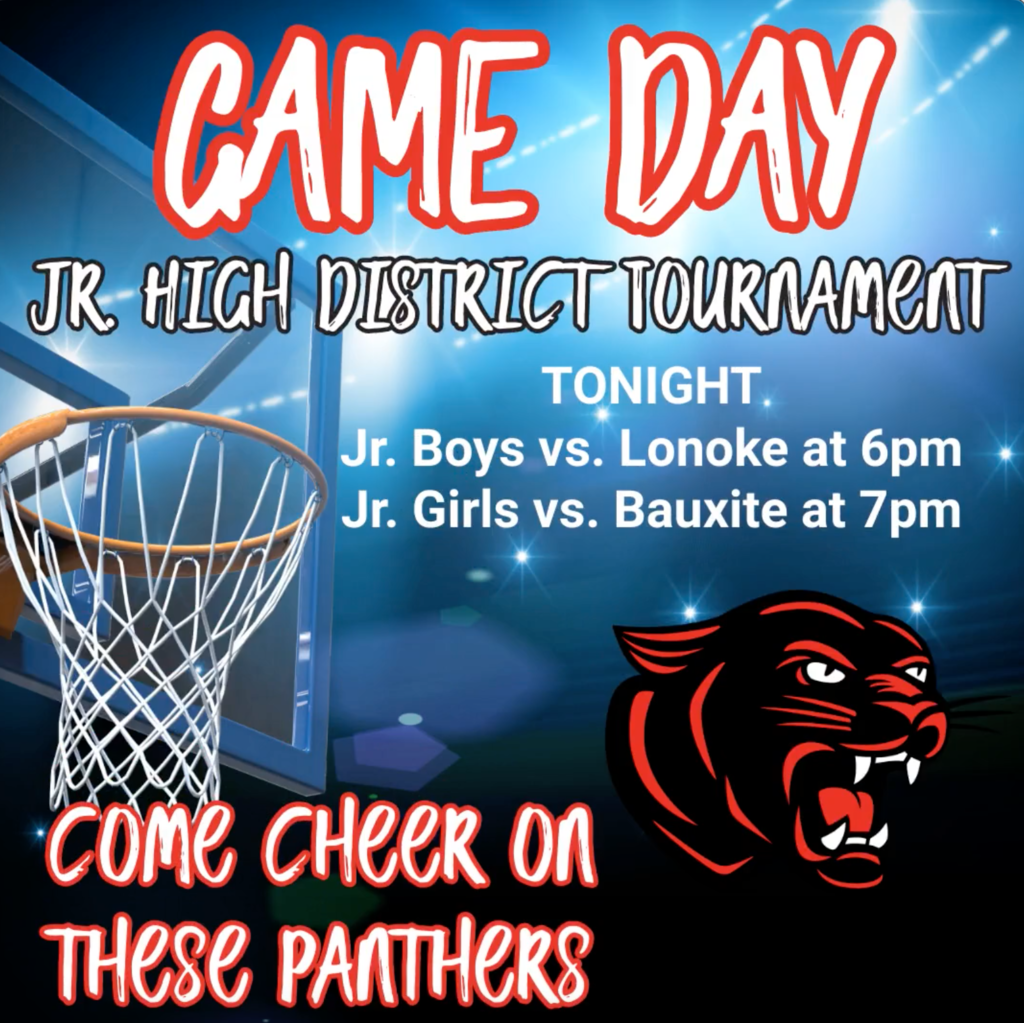 We are so honored to have these amazing women on our staff at Heber Springs Schools. They work diligently every single day to make sure your child's need are met in every way possible. They deserve more than just a week of recognition. Elementary - Brana Kyzer and Emily Richard Middle - Michelle Graham High - Shannon Martin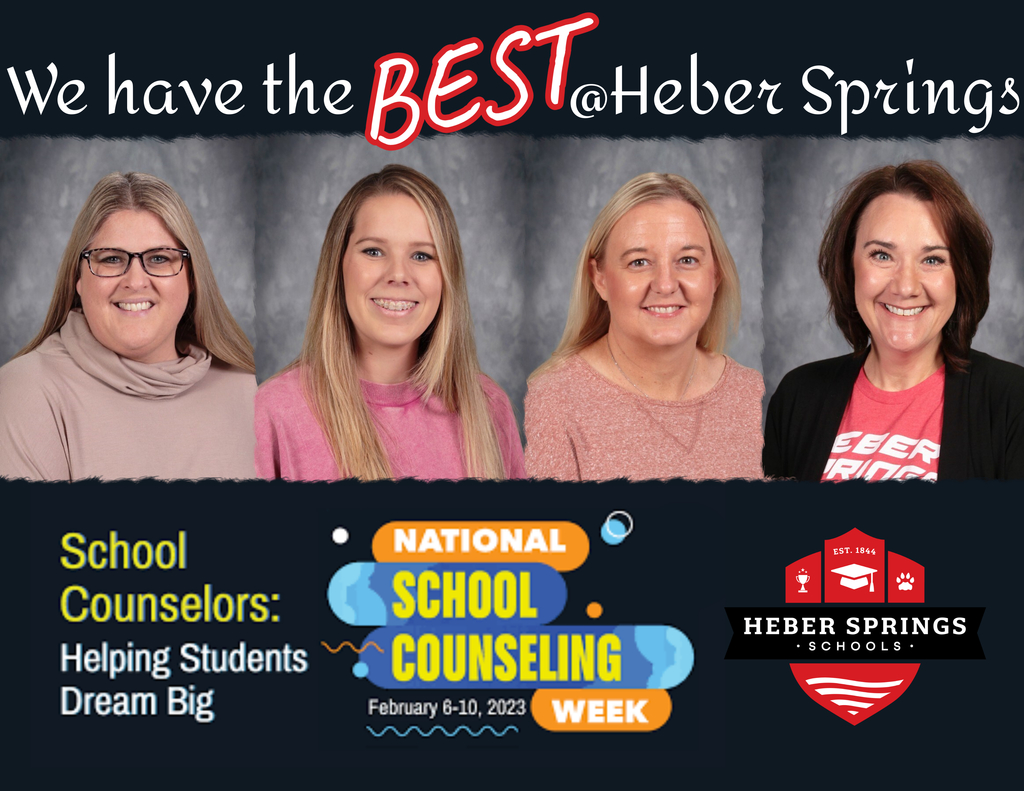 Roads in Heber Springs and outside the community have been affected by today's rain with high water and flash flooding. We have been notified that there are several roads that are closed due to these conditions. Please be aware of this as you head up to school to pick up your child or if your child rides a bus home from school. Our busses are unable to cross blocked roads or those with high water. We are working to contact families who may be impacted by bus route changes.